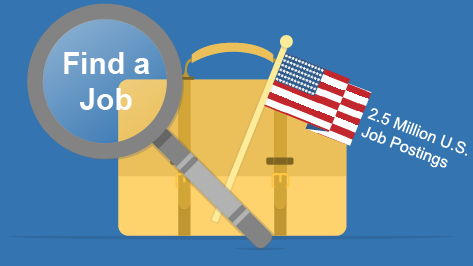 Combine the power of the premier business reference and research tool, Reference Solutions, with the world's #1 job site, indeed.com. Find your next job with our state-of-the-art mapping tool and view results with detailed business profiles. Selection Criteria include: Job Title, Company Name, Business Type, Multiple Geography Options and more.


External Job Search Tools
Learn How to Become
learnhowtobecome.org - Explore in-depth information on a myriad of careers, find a school that meets your needs and learn how to conduct an effective job search.

College Internships and Employment
accreditedschoolsonline.org - Find and choose the right internship for you and get tips on how to make the most out of it.

Job Search Tips
wikihow.com - "How to Get a Job" Whether you're looking for your very first job, switching careers, or re-entering the job market after an extended absence, finding a job isn't always easy.

Continuing Education
careeronestop.org - Update your skills by browsing through categories like Plan- ning your Goals, Scholarships, Credentials and Professional Development.

Interview Tips
about.com - "Interview Questions and Answers" Job interviews are always stress- ful - even for job seekers who have gone on countless interviews.

Job Offer Advice
affordablecollegesonline.org - Learn how to evaluate and compare job offers, negotiate a higher salary and accept or decline a position.

Resume Writing
about.com - Resume Writing, Sample Resumes, Resume Builders.

Aptitude Testing
onetcenter.org - Try a career exploration tool.

Salary Estimates
careeronestop.org - Wages & Salaries, Relocating, Unemployment Insurance and Pay for Education & Training Benefits.

Job Related Articles
marketwatch.com - Career related articles from Market Watch, a Wall Street Journal website.

Test Tips
lsac.org | sat.collegeboard.org | actstudent.org | mcat-prep.com - LSAT, SAT, ACT and MCAT.